Wij – Dziwidło CD
45,00 zł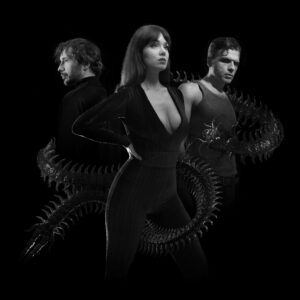 [Scroll down for ENG]
Wij to trzygłowe stworzenie nocy. Wypełza z warszawskich piwnic z surowym, protometalowym brzmieniem, do czego wystarcza gitara, gary i wokal. Minimalistyczne aranże nurzają korzenie w latach 70. ale zachowują ciężar właściwy swoim czasom, nawet bez basówy. Wyobraźcie sobie The White Stripes gdyby Jack White zaciągnął bluesa od Tony'ego Iommi zamiast Son'a House a nad wszystkim górowałaby bojowa pieśń Walkirii. Pieśń w języku polskim, opowieść o pradawnych tajemnicach.
Uwaga! Winylowe wydanie dostępne kwiecień 2022.
Rerealizacja i miksowanie: Haldor Grunberg @ Satanic Audio
Okładka: by Maurycy Gomulicki
___________________________________________
Wij (pronounced "veey") is a nocturnal six-legged, three-headed creature that crawls out of murky Warsaw cellars to play raw but muscular protometal with just guitar, drums and female vocals. Their minimalist sound is steeped in metal's seventies roots yet maintains a modern heaviness, even without a bass guitar. Imagine The White Stripes if Jack White had learned his blues from Tony Iommi instead of Son House, with a wailing female Viking warrior singing of ancient mysteries in Polish. Their mammoth debut album contains 10 band originals plus a Polish-language cover of Venom's "In League With Satan.".
Note: The vinyl version will be available sometime in April 2022.
Recorded and mixed by Haldor Grunberg @ Satanic Audio
Artwork by Maurycy Gomulicki